Young stargazers, their parents, and the military descend on a small desert town for a science competition. What they encounter will change their lives forever. At least that's what the playwright thinks the plot of his untitled play should be, according to what the television narrator told the audience at home about the playwright, the actors, the directors, and the issues going on behind the scenes while the play is being staged. Asteroid City It depicts three different narratives simultaneously. Drum roll please, it's a movie…within a movie…within a movie. Auteur Wes Anderson presents his most abstract cinematic endeavor yet. It's too much to digest and confusing at times, but it's boldly creative and full of humour.
In black and white, the narrator (Bryan Cranston) addresses the camera directly. A group behind him lights up the remote cabin of famed playwright Conrad Earp (Edward Norton). He is working hard to direct his new play but he has some snags. Earp isn't quite sure where his story will go but he has a general idea of ​​the characters and themes. He also thinks about the actors and the director. These details will come to him later. He starts writing seriously.
In vibrant colors, Augie Stenbeck (Jason Schwartzman), a war photographer, drives to an auto shop in the desolate desert. The year is 1955. Auggie is accompanied by his teenage son Woodrow (Jake Ryan), nicknamed "Brainac" for his genius wit, and three young daughters. They are in the middle of nowhere for the Junior Stargazers competition. Asteroid City, known as Meteor Crater, was chosen to host the event. Hank (Matt Dillon), the mechanic, gleefully tells Auggie that the car has serious problems and it will require a small fortune to fix it.
Scarlett Johansson as Midge Campbell
Auggie takes his kids to the diner for lunch. He calls Stanley Zach (Tom Hanks), his father-in-law, to let him know the situation. He is on his way to pick them up. Auggie notices famous movie star Midge Campbell (Scarlett Johansson) at the table. She is in competition with her flamboyant daughter, Dinah (Grace Edwards). Auggie fills the bellies of the children before telling them bad news. Their beloved mother passed away weeks ago. He didn't have the heart to tell them.
In black and white, back in the television studio, the narrator returns to Earp's cabin. The playwright receives an unexpected visit from a little actor (Schwartzman) who wants to portray Auggie. He has a different take on the character and how the play should go on. Then we're back in the colorful town all young stars have arrived in, with a religious teacher (Maya Hawke) and her students, a singing cowboy (Robert Siddique), chief scientist (Tilda Swinton), and General Griff Gibson (Jeffrey Wright). The hotel manager (Steve Carell) leads everyone to their bungalows. Excitement, or sadness in Woodrow's case, fills the air as the competition begins in earnest. Everyone is looking forward to witnessing a rare celestial event the next night.
Related: All 10 Wes Anderson Movies, Ranked
Is any of this reasonable? Asteroid City Complex narrative does not feed into important details. Requires quick attention to avoid confusion. The narrator does not explain anything. It is the observer telling the story as it happens. Anderson has him break convention and show up in town, too. This upsets the actors, who are setting the play up in full character. There is a surreal nod and wink to the whole process.
Bonkers case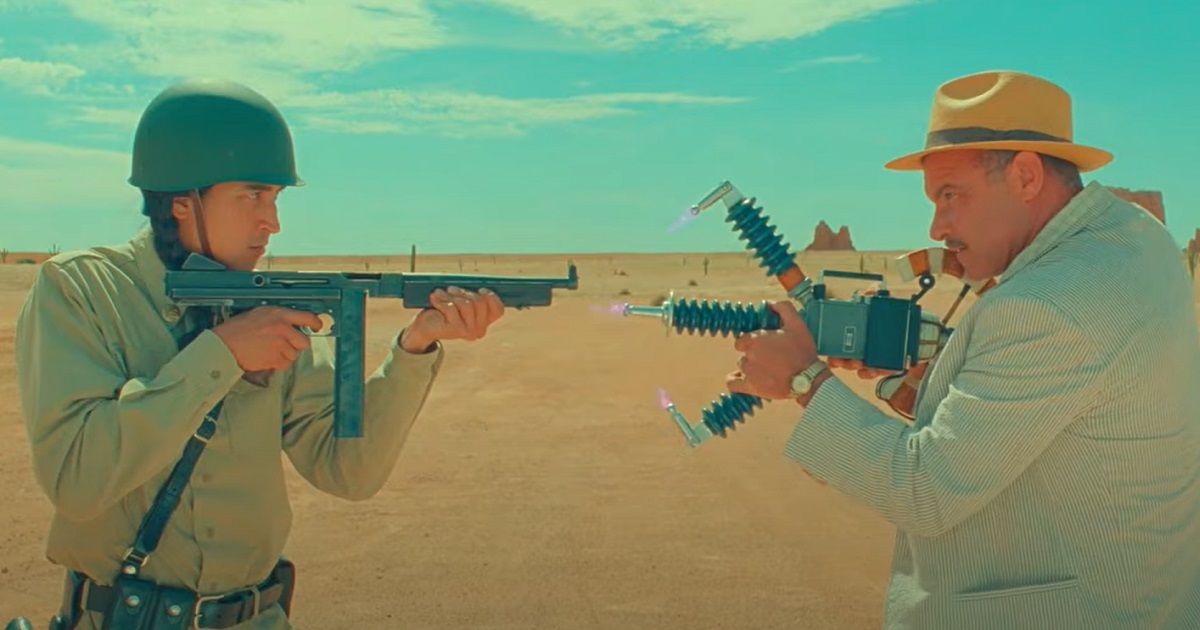 Anderson dives deeper in Chapter Two. We meet Shubert Greene (Adrien Brody), a recently divorced director who wants a famous actress (Johansson) to star alongside a relatively unknown protagonist. He decided to live behind the scenes at the theater during his divorce. This information has nothing to do with the play. Asteroid City He gives each member of the group a rawhide to chew on. Anderson's meaty approach provides plenty of context but feels like extra filler at times. The basic story in the desert is not lacking in detail. A smaller, more concise mod that would sharpen the plot but reduce the quirk factor.
Asteroid City It has exceptional cinematic design and production. Anderson accompanies rich character development with interview sets and backgrounds. The narrator and Earp, both shot in black and white, are the nuts and bolts of the film. The events in the city are brightly colored representing the crazy developments. The contrast keeps you engaged during those head-scratching moments. Anderson's use of gadgets is particularly clever with children's wacky inventions. Jetpacks, ray guns, and even a hot plate come in handy.
Asteroid City Anderson's fan base will undoubtedly be pleased. There's a familiar comfort to seeing his tried-and-true veteran team in frenzy. But the movie may be too abstract for a general audience. The character overload, along with the labyrinthine story, baffles as players jump in and out of the game. Anderson self-deprecatingly acknowledges this when the protagonist admits there is no clue as to what is really going on.
Asteroid City It is a production of American Experimental Pictures and Indian Paintbrushes. It will have a limited theatrical release in New York and Los Angeles on June 16 followed by national distribution from Focus Features.